9:20 am
[souraples]

Anybody Traveling from Memphis to St Louis
We are trying to get our Border Collie Home for the Holidays
Hamiliton is currently in Baton Rouge LOuisiana, we have a ride for HAmilton to Memphis
We just need a ride from Memphis to St. Louis, where my boyfriend will pick-up Hamilton and bring him to Junction City Kansas?
Can anybody help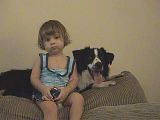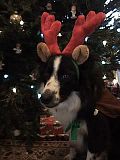 7:04 pm
[bayoubc]
Trimble's been adopted!
Trimble has a new home in Metairie, LA. She'll be leaving to join her new family in a few weeks after completing her heartworm treatment.
10:59 pm
[bayoubc]
Trimble
Trimble is an adult spayed female border collie mix. Her age is unknown, but she is estimated to be a young girl. Unfortunately, she came up heartworm positive when she was spayed, but she'll be receiving treatment for that in the next few weeks. After that, she'll be a happy, healthy girl and will be starting heartworm prevention. She is currently on frontline and has been fully vaccinated. She gets along well with everyone she's met. She loves other dogs, almost -too- much since they're not always ready to meet and greet her as fast as she'd like. Devon (a rescue puppy) is her constant wrestling companion.
She is crate-trained and mostly housebroken. The one accident she's had was at the backdoor, so she knows she's -supposed- to go outside. At this point, it's all a matter of teaching her to let people know she needs to go out.
Occasionally she has given a short chase to the cats, but she has never shown any aggression towards them. After the first few days, she's also given up chasing them except for the rare spurt. She'd do best with dog-savvy cats. She'd love to have another doggie buddy, but would do well with an dogless, attentive family as well. With her energy, she might be a good agility dog as well.
10:34 pm
[bayoubc]
Hume
Hume is an adult neutered male border collie mix. He is heartworm negative and on prevention as well as on frontline. He gets along very well with people, though he can be a little submissive. His history is unknown since he was pulled from a shelter on his last day. He is crate-trained and seems to be housebroken (no accidents in the two weeks since he was pulled). While he can be a little shy with new dogs, he has accepted both my own dogs and the other rescues in only a few days time, to the point that he can be found wrestling with the other dogs outside almost any time they're out together. His favorite activity seems to be curling up on the floor wherever you are...that or giving you a slurp on your knee, elbow, toe...or whatever other body part is handy. He gives the same treatment to the other dogs, licking their muzzles. I've yet to see him pay any attention to the cats, even when they're racing past him for dinner time. He's an all-around sweet fellow who would be a good, laid back companion for just about anyone.
10:14 pm
[bayoubc]
Devon
Devon's an ~4 month old spayed female Border Collie/Retriever mix puppy. She's almost all black with a patch of white on her chest. She was found in a ditch in Lafayette, Louisiana in the beginning of March. She is on heartworm prevention and frontline (flea and tick prevention) and has had most of her puppy vaccines (including rabies). Any dog, cat, or person is her new bestfriend. She has gotten along well with any of the children she's met. She is crate-trained and almost completely housebroken (only one accident in the last two weeks).